www.Liteblue.usps.gov Website Login Page
www.Liteblue.usps.gov Website Login Page.
Sign in to the official Liteblue Usps Login portal in seconds. View your USPS schedule, ePayroll statements, change your contact details, and more
The Official Liteblue Login Page.
You will need to know your USPS Employee ID and your USPS Self Service Profile (SSP) Password to sign in to the Liteblue Portal.
Where can I find the official Liteblue website login page?
Visit Liteblue.Usps.gov or Support / Feedback
New USPS associates might find it confusing to navigate the Liteblue platform at first.
The official Liteblue login page is at https://liteblue.usps.gov/wps/portal/. Click on the link to open the page.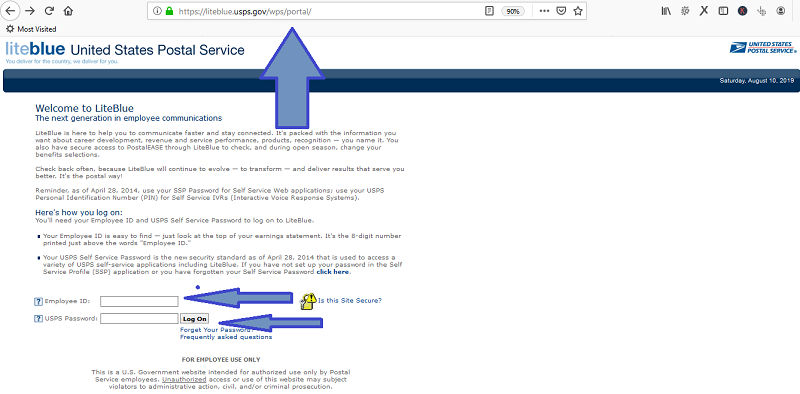 How do I log in to the Liteblue Website?
Open the Liteblue login page.
In the boxes marked 'Employee ID' and 'USPS Password', type your Employee ID and your USPS Self Service Password
Click on the 'Log On' button.
Your Liteblue USPS Employee ID can be found at the top of your earnings statement/payslip. It is an 8-digit number printed above "Employee ID."
I am a new USPS Employee and I don't Have a Password.
If, as a new associate, you still have not set up your password in the USPS Self Service Profile (SSP) application, then your will have to do so first, before your can log in to the Liteblue portal.
To set up a password, head over to: https://ssp.usps.gov/ssp-web/login.xhtml (Click on the link to open it).
This is also where you need to reset your SSP password, if you have forgotten it.
On the SSP.Usps.gov website, enter your Employee ID and SSP Password. If you don't know your SSP Password, then simply click on the Forgot Password? link and follow the instructions.
If you are logging into the SSP.usps.gov website for the first time, then you must set up your Self Service Profile.
As a new employee, a letter will be sent to your address with a temporary SSP password. The temporary SSP password does not work for logging in to Liteblue or other applications. You must change the temporary SSP password to your chosen permanent password.
Use the temporary password to log you in to the SSP.Usps.gov portal and change your password.