USPS Jobs and Careers.
The United States Postal Service, or USPS for short, is a government agency, which is responsible for providing postal services for people living in the United States. It is sometimes referred to more simply as the US Post Office, or US Mail. The USPS is legally obligated to offer a universal postal service for all citizens in the country.
With more than 600,000 active employees, the USPS is also recognised as the third largest civilian employer in the United States, with only Walmart and the United States Federal Government employing a greater number of people. Some of the most common job roles include mail carriers, mail handlers, processing clerks and carrier assistants.
USPS Jobs and Careers – Which Jobs Are Available?
For those seeking USPS careers, there are several options for identifying the jobs that are currently available. The first option is to go to the USPS Careers page at: https://about.usps.com/careers (previously located at www.usps.com/employment) and click on 'Search Jobs'.
Alternatively, you can click here. Then, select your location and preferred job area, and click 'Start'.
Upon doing so, a list of relevant jobs will be shown. If there are no vacancies matching your search criteria, the results page will be blank. However, if that is the case, it is still worth checking back regularly to see if new positions become available. You can also go back on your browser, and adjust the parameters before trying again.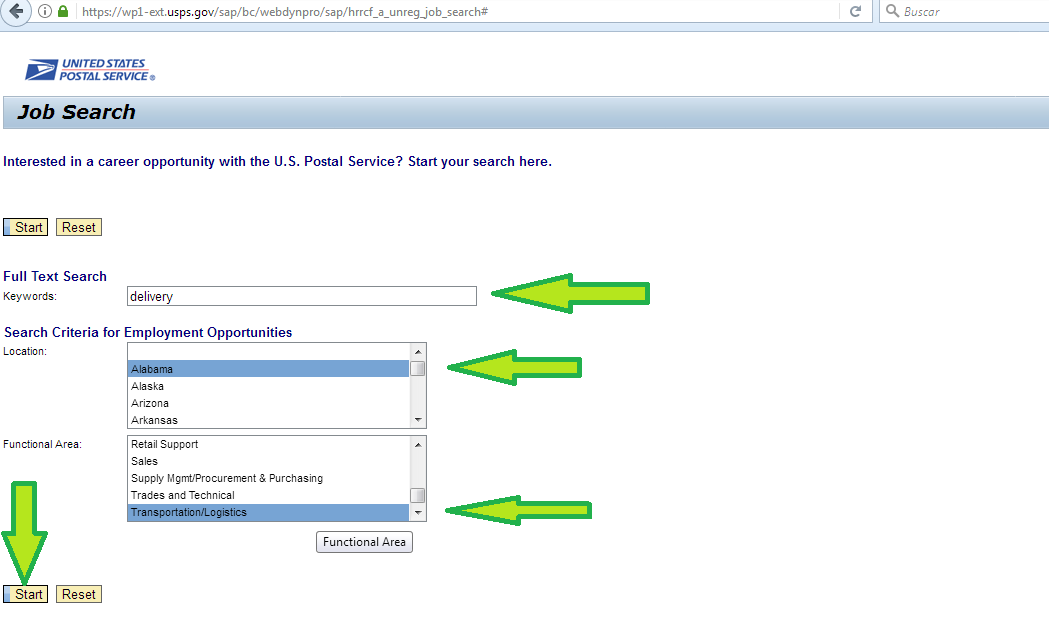 You can use the USPS eCareer website, as shown above, to search for USPS jobs in these categories:
Administrative
Auto Mechanic
Carrier
Clerk
Finance/Accounting/Supply Management
Human Resources
Legal
Mail Handler
Maintenance
Management
Marketing/Sales
Motor Vehicle/Tractor Trailer Operator
Rural Carrier
Seasonal
Technical/Information Technology
Another way to find Post Office jobs online is to search for vacancies on a third-party website like, Indeed. To do this, either go to Indeed.com and search for "USPS", and choose a location, using the job search box, or click here.
The website should then show all of the relevant jobs being advertised. Instructions for how to apply for these jobs should also be provided, although it is usually best to apply for USPS roles through the main USPS careers website.
How to Apply for USPS Jobs.
To actually apply for a USPS job, you need to first check that you meet the eligibility criteria. In addition to reading the job specification for the role you are interested in, you also need to be:
– A US citizen or permanent resident in the United States.
– At least 18 years of age.
– Able to pass drug testing, medical screening and criminal records checks.
Assuming you meet the requirements, you will need to find a vacancy and then apply online. The easiest way to do this is through the USPS website.
To get started, you will need to create an account, which can be done by clicking here, or by going to: https://about.usps.com/careers/search-apply/ and clicking on 'Create an Account'.
The account creation process itself is straight forward and instructions are provided on the sign up page. All you will need to provide is your name, a username for use with the service, a password and a valid email address. Once you have created your account, you should also sign in and update your candidate profile.
Information that may be needed here includes your employment history, your qualifications and your education history.
With your account created and up-to-date, simply search for the job you want and click on the 'Apply' button. Then follow the instructions to complete your application. It should be noted that many USPS careers require candidates to pass a civil service exam. This is usually a general competency test and may take up to two hours to complete.
If your application is successful, you will be forwarded to the next stage, where you may need to attend a group interview or a one-to-one interview. You will also be required to pass drug screening and background checks.
Further information about job applications can be found at: https://about.usps.com/careers/job-application/
USPS Careers Login Page.
If you have already created a USPS Careers account, but you cannot find the login page, then go here, to log on.
You will have to enter the User ID and password that you used when you created the account.
If you have forgotten your USPS Careeers password, then head here to receive an email from the system with a password reminder.
How Much Do US Post Office Jobs Pay?
The amount of money you will actually earn from a job with the US Postal Service will depend on a number of factors, including the job you apply for, your location and the amount of experience you have. However, to provide a basic guide, salaries range from around $39,000 through to around $90,000 per year.
You will find the median hourly pay rate for some of the most common USPS jobs below:
Mail Carrier – $17-$18 per hour.
Mail Handler – $17-$18 per hour.
Processing Clerk – $16-$17 per hour.
According to FederalPay.org, the average USPS salary stands at $51,800.