Liteblue.USPS.Gov – Liteblue
Liteblue.USPS.Gov.
Lite Blue is the official online portal for United Stated Postal Service employees. Use the website to log in to your Liteblue account and view your work schedule, benefits, paychecks and more.
For Liteblue Login help and FAQ, please visit our main, Liteblue Login help page.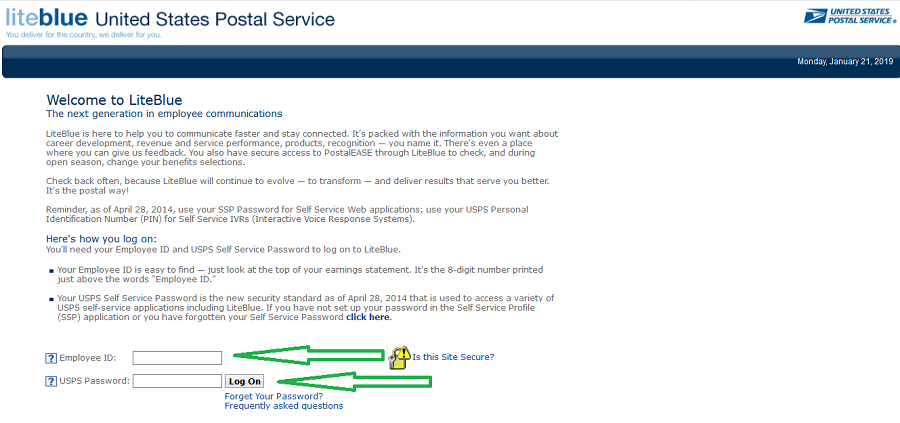 Lite Blue.
The official Lite Blue login page is found at https://liteblue.usps.gov/. You must know your USPS Employee ID number and SSP Password to log in.
If you do not have an USPS Employee ID number and Password, then visit https://ssp.usps.gov/ to set up a Self-Service Profile.
USPS EIN Number.
Your USPS Employee ID number or EIN number, can be found at the very top of your wage statement. It is and 8-digit number, and it is printed just above "Employee ID."
Your USPS Self Service Password for Liteblue is the password needed to access a USPS self-service applications, such as PostalEASE and Liteblue. If you are a new employee, you must set set up Liteblue password first on the Self Service Profile (SSP) website, on order to acces Liteblue at Liteblue.USPS.gov. Visit https://ssp.usps.gov/ to set up a passwordand profile.
All USPS Employees must set up a Self-Service Profile.
USPS PIN Number.
Note: Your Liteblue SSP password is NOT your 4-digit USPS PIN.
The PIN, your Personal Identification Number is used for the USPS employee telephone system, whereas the SSP password is used for ionline applications, such as Liteblue.
The PIN number is mailed to your postal address, when you are hired by USPS.