eRetire at USPS LiteBlue.
The eRetire service is a web-based self-service application for employees of the United States Postal Service (USPS). It allows certain workers to plan for retirement and carry out a number of related activities online. The service itself is connected to the LiteBlue employee web portal and can be accessed through that platform.
It is important to note that not all USPS employees are eligible to actually use the eRetire service. It is specifically aimed at those who are approaching retirement age, or those who have already reached retirement age.
What Can USPS Employees Use eRetire For?
The service can be used for a range of different purposes, all linked with managing retirement options. The precise options that are available will depend on an employee's specific circumstances, but all eligible employees can use eRetire to check their annuity estimate and to print their estimate out.
Employees who are closer to retirement eligibility are also able to request a retirement application form, select a specific retirement date in order to begin the retirement process, or schedule a retirement counselling session. For these employees, the variety of different annuity estimate options is also increased slightly.
eRetire Login at LiteBlue.
To actually use the eRetire service, you will first need to sign in to the LiteBlue platform, which can be done by going to the main homepage at: http://www.liteblue.usps.gov/
Using the login form provided, you will need to enter your Employee Identification Number, as well as your USPS self-service password. Then, simply click the 'Log On' button and you should be signed into your account.
If you are unsure of what your Employee ID is, it is an eight-digit number, which can be found on your earnings statements. Your password is used across several other USPS services, including PostalEASE. The login form itself also includes a 'Forgot Password' option for employees who may have forgotten their login credentials.
Once you have successfully gained access to LiteBlue, click on the 'My HR' tab and wait for the page to fully load. At the bottom of the page, you should see an option labelled 'Employee Apps'. Click on this, and a list of available apps should be displayed. Simply select 'eRetire' to gain access to the service.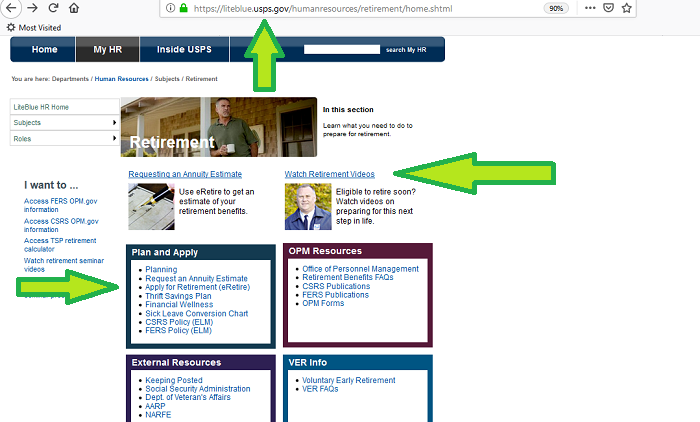 Who is Eligible to Use eRetire?
In order to use eRetire, you must be a USPS employee and have access to the LiteBlue online portal. You will also need to meet the retirement eligibility criteria for using the various services, which are as follows:
– Employees within five years of retirement eligibility can request an annuity estimate, view it and print it.
– Employees within six months (180 days) of retirement eligibility can request and print an annuity estimate, arrange a counselling session, or request a retirement application package.
– Employees already eligible for retirement can do all of the above, and these employees can also request their annuity estimate on a month-by-month basis, effective as of the 1st of each month.
To learn more about USPS retirement eligibility, the FERS Federal Employees Retirement System, see the USPS Employees Handbook.