How to Change my USPS LiteBlue Password.
LiteBlue is an online employee portal for staff working for the US Postal Service (USPS). The platform itself can be used to access information about career development, performance and recognition. It also offers communication tools and provides a way to find out about products, or to track revenue generation.
Moreover, the LiteBlue service also provides access to a similar platform called PostalEASE, which is primarily used to manage employment benefits. Both services require the use of a self-service profile (SSP) password, and at various times it may be necessary to set up a password, reset your existing password, or voluntarily change it.
How Do I Change or Reset My LiteBlue Password?
In order to change or reset your LiteBlue password, you must first head over to the main login page, which can be found by visiting: https://ssp.usps.gov/ or by clicking here.
From there, click on the button labelled 'Enter SSP' and the login page should be displayed, requesting your Employee Identification Number and your self-service password.
Rather than entering this information, however, you should instead click on the link found underneath, which is labelled 'Forgot Your Password?'
The direct link to the reset page is here.
You will then be required to enter your Employee ID Number and an email will be sent to your verified email address. Open this email and click on the link to reach the password reset page.
Once you are on the password reset page, you will need to enter a new password and then confirm it. The password you choose must be at least eight characters in length and must contain three of the following four character types: an upper case letter, a lower case letter, a number, and a special character (e.g. $, %, *, &).
Complete the process and your password will be changed to the new password you have just entered.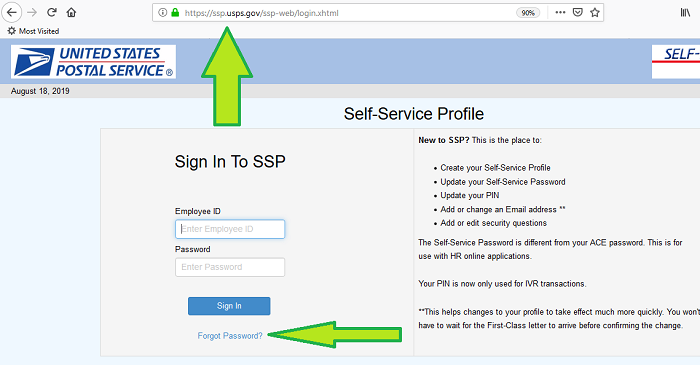 How Do I Set Up My LiteBlue Password for the First Time?
Before you can use the LiteBlue service, you will be allocated a temporary self-service profile password, which will be sent to you in a letter. Crucially, you will need to change this temporary password to a permanent one of your choosing before you will be able to actually use the various USPS online SSP applications.
To do this, go to the main login page via https://ssp.usps.gov/ and enter your Employee Identification Number and the temporary password in the relevant fields. You will then be taken to the 'Self-Service Profile – Initial Setup' page, where you will need to enter a new password and then confirm your choice.
The password you select will need to be at least eight characters long and must contain a combination of upper case letters, lower case letters, numbers and special characters (e.g. $, %, *, &). You will need at least three of these four categories within your password for it to be considered strong enough to use as your SSP password.
After selecting a valid password, you will also need to set up two security questions, complete with answers. Simply follow the instructions on the screen do complete this section. You will also have the opportunity to provide a verified email address, which will then be used for future correspondence.
Upon completion of the entire setup process, click on the 'Submit My Profile' button and your self-service profile and password will be set up. You can then use this to log in to various USPS online services.
When Do I Need My USPS SSP Password?
Your USPS SSP password will be needed to access a range of different online platforms, including LiteBlue itself. Additionally, you will use the same password to sign in to PostalEASE, eReassign, eIdeas and eOPF.