Liteblue PostalEASE Login
PostalEASE.
PostalEASE is an online portal and telephone-based service, which is aimed exclusively at employees of the US Postal Service (USPS). It is primarily used to manage enrolment in the various available employee benefit plans, such as the Thrift Savings Plan (TSP) and the Federal Employees Health Benefits Plan (FEHB).
The online portal can be accessed via the internet, intranet, or from one of the employee self-service kiosks. To use either the online or telephone-based services, you must be a USPS employee and you will need to know your Employee Identification Number and password for the service, as well as your social security number (SSN) and PIN.
What Can I Use PostalEASE For?
PostalEASE can be used to manage your participation in a number of different employee benefits schemes. For instance, through the platform, qualifying employees can enrol in the Thrift Savings Plan, while existing participants in the scheme are able to change their monthly contributions, or sign up for the direct deposit service.
In addition, USPS workers can also make adjustments to the Federal Employees Health Benefits Plan, such as updating information about dependants. Larger changes can also be made, such as cancelling enrolment or reducing coverage.
The same basic services are also available via the telephone service by calling 1-877-4PS-EASE (1-877-477-3273).
PostalEASE Login.
How Do I Log In to USPS PostalEASE?
To log in to the PostalEASE online employee portal, you must first visit the main portal homepage, which can be found at: https://ewss.usps.gov or by clicking here.
You will need to agree to the terms of service to enter the site. After doing so, you should be presented with the main login form.
Once this form loads, you will need your Employee Identification Number and your password. The password required is your USPS self-service password, which is also used for a number of other applications and services. A link is provided above the main login form for employees who have not yet set up their self-service password.
To log in, simply enter your Employee ID and your password in the relevant fields and then click the 'Submit' button underneath.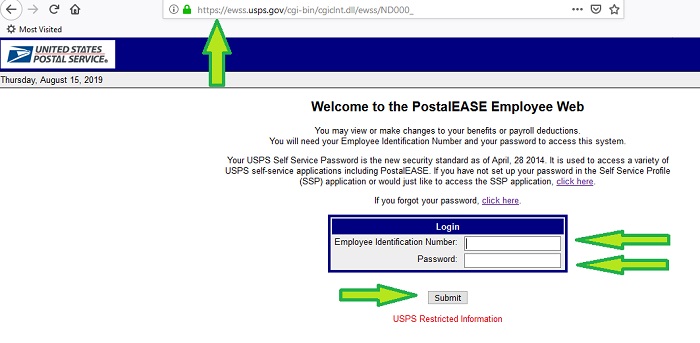 You should then be taken to your account homepage, where you will find the various options. Take care when entering your password, and make sure CAPS LOCK and NUM LOCK are set to 'OFF' on your keyboard.
In order to use the telephone service, you will need to call the number above and use your Employee Identification Number, social security number and PIN. If you are unsure of your PIN or have not received one, you can request one over the phone. It will then be sent to you in the mail, which could take around 10 days.
For new employees this is how to get your EIN, Self-Service Password and PIN:
Instructions to Find Your USPS EIN Number.
Employee Identification Number (EIN) – This number is Provided at orientation in your employee packet. The EIN number can also be found on your Earnings Statement if you dis not receive an orientation packet.
Instructions to Find Your USPS PIN Number.
PIN & Self-Service Password – Your PostalEase PIN arrives via mail within two weeks of your starting date. You will use your PIN to access PostalEASE® via the phone number.
The phone number for PostalEASE is: 1- 877-477-3273
To retrieve your USPS PIN via phone, do this:
Call 1- 877-477-3273
Press 1 when prompted, enter your Employee ID whichc is always printed at the top of your earnings statement.
When asked for your PIN, wait and then press 2. Your USPS PIN will be mailed by post to your address of record on the next business day.
How Do I Reset My PostalEASE Password?
If you forget your password or have reason to believe it has been compromised, the PostalEASE service includes a built-in password reset function, allowing you to reset your password and either re-secure your account, or re-gain access to it. This feature can be accessed from the main PostalEASE homepage.
Above the login form, you should see a link labelled "If you forgot your password, click here." Follow this link, work through the instructions provided and you will be able to choose a new password for future use.
The direct Postal link Password Reset is here.